AVIAKIT
People often ask us why we use the Aviakit logo as a company label in our jackets and what its significance is to Lewis Leathers as a company.
The answer lies in our association with flying clothing and kit in the first quarter of the 20th Century, looking at the earliest advertisements we have in the LL archive, it can be noted as early as 1930 that the name AVIAKIT is used as the Telegram address (right next to the shop telephone number which we still use today).

At around the same time D Lewis Ltd produced woven labels with the Aviakit brand name, the earliest type has the wording Shrunk BDA 'Rigmel' below –which presumably means that they were first developed for the Civilian all-cotton Summer flying helmets featured in adverts of the time and were then later used for the leather versions, D Lewis Ltd labels can also be seen in helmets from the same period.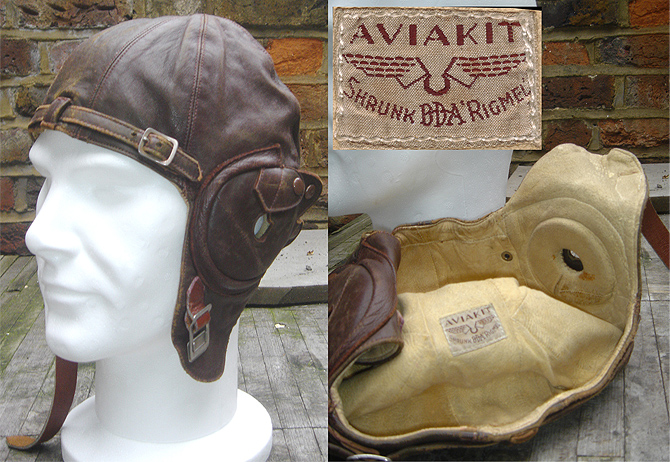 The Aviakit name continued to be used for helmets and items of clothing up to and during WW2 when RAF pilots could visit D Lewis Ltd for private purchase items including 1936 pattern flying boots, gloves, goggles and many other articles of kit and clothing. Post-war the Aviakit label seems to have been mostly attributable to accessories such as helmets and gloves and is also used in a descriptive sense such as 'An Exclusive Aviakit feature' and'…Aviakit expanding back' to pinpoint notable design features on the D Lewis products.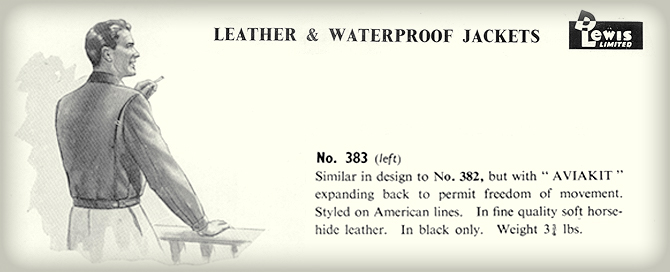 By the mid-1950's the Aviakit name becomes more integrated with the burgeoning motorcycle clothing range and is used as labels for items such as that of the brand new and exclusive Bronx jacket and appears more prominently in the advertising of the day 'For Style and Fit its Aviakit!' and 'Buy the Right Dress! Wear 'Aviakit'.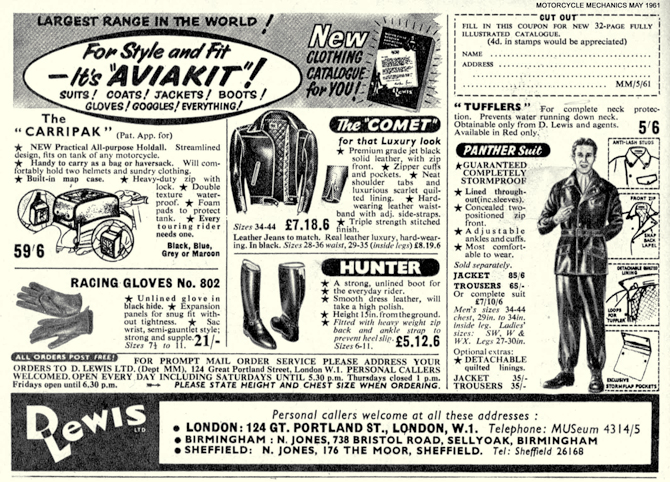 In 1959 the 'AVIAKIT' Clothing Column makes its appearance in Motor Cycling magazine, by this time the Aviakit name was being integrated into larger labels such as Bronx and Super Jet crash helmets.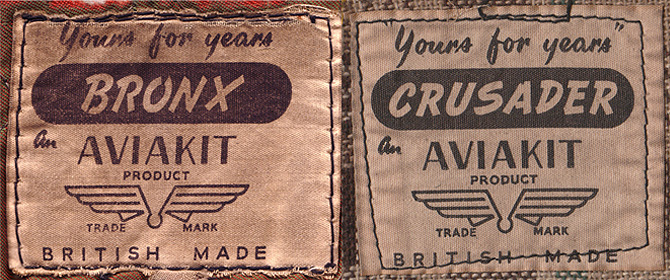 1960 sees the birth of the new Lewis Leathers script logo and early labels are often featured alongside small Aviakit tags until, around1965/6, when the new larger Aviakit label appeared inside all Lewis Leather jackets, the first labels were Black and Red which changed in the early 70's to the Blue and Red tag.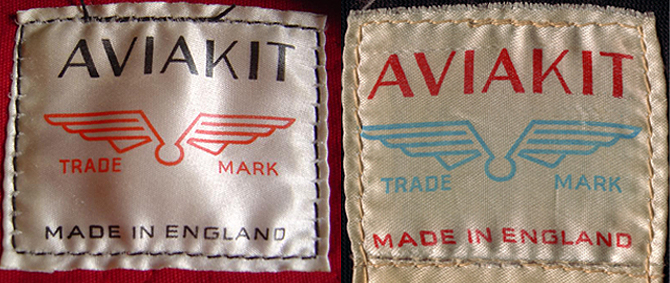 Today we use the Black and Red tag and the Aviakitname has seen appearances on Lewis Leathers Sunglasses and Frames, newly created Flying Hats (2004), T Shirts, boots sneakers and badges.