Step 1 - Leather
As leather is a natural substance it can be prone to some surface marking which arises from the life cycle of the animal itself, each skin / hide will have its own unique characteristics and unlike fabric or sheets of vinyl, we cannot guarantee a uniform finish. All Lewis Leathers jackets and trousers are made from a single piece of leather to enable matching of shade and close uniformity of thickness.
Various Leather Options are Available for all Lewis Leather Jackets, Please see Below for an Explanation of the Types and Their Qualities: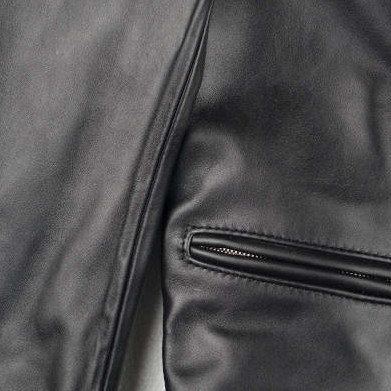 Chrome Tanned Cow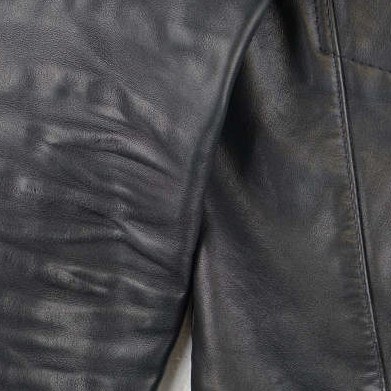 Cow 1-2 years' wear
Cow Leather + Surcharge 1.1mm - 1.3mm, Full Grain, Chrome tanned with semi aniline finish, British supplier.
The cowhide offers high protection and scuff resistance and tends to need less conditioning during the first 4 or 5 years of wear and is remarkably water resistant, however breaking-in time is longer.
The cowhide we use is no thinner or less protective than the hides Lewis Leathers have used throughout its history for jackets and professional racing suits (worn by Giacomo Agostini and Mike Hailwood to name but two), but due to modern tanning techniques it is more supple, will be more comfortable, more water and scuff resistant, and will ultimately last longer.
Available in Black only.

Vegetable tanned Cow leather + Surcharge (Tea Core) 1.1mm - 1.3mm. Italian
Our most expensive hide, this Italian hand-crafted vegetable tanned leather is produced via a process which tans the hide to its natural 'biscuit' or 'tea' colour, it is then top stained to the desired colour. This process leaves the original surface of the leather intact, the finished hides are then lightly tumbled at the tannery to gently enhance the natural patina of the leather. This process means that each jacket made from this hide has its own unique character and is truly a one-off piece.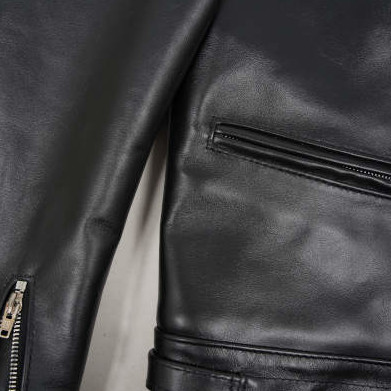 Chrome Tanned Horse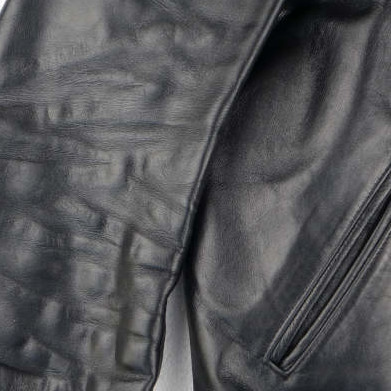 Horse 1-2 years' wear
Horse Leather 1.1mm - 1.3mm, Full Grain, Chrome tanned, semi aniline finish with a light pigment. Italian
Horse hide has a distinct patina due to its shorter fibres and so develops a finer grain and creases while breaking-in, favoured by riders who demand both protection and a classic look.
Regular conditioning is recommended with horse to encourage the desirable traits and increase water resistance.
Available in 11 colours.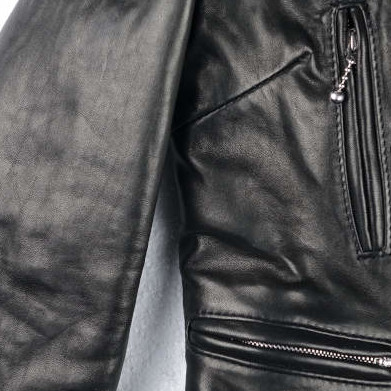 Veg Tanned Sheep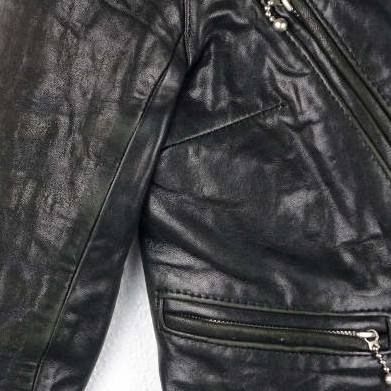 Sheep 1-2 years' wear
Sheep Leather 1.2mm - 1.4mm, Sourced in France
Though the sheep leather is on average thicker than our cow and horse, it is softer and does not offer as much protection as cow or horse so is more suited to summer riding and casual wear, and for those who want a vintage look with very little 'breaking in.' This leather also requires more looking after if regularly exposed to the elements and can fade and absorb water if used extensively in the sun and rain, hide food will help keep the rain out but for riding we recommend one of the leathers below.
Available in 5 colours.
Though leather jackets have over the years become a fashion item and we are proud when our music heroes choose Lewis Leathers gear, our focus is first and foremost on making the best in classic British motorcycling clothing and staying true to our time-honoured designs.
All our leather garments are made in the UK, with each jacket made in London by a single machinist from start to finish, and boots still hand made in Northamptonshire.
Ultimately the choice of leather is yours so if you are still undecided then we recommend a visit to the Lewis Leathers shop to sample the different hides for yourself. Meanwhile, should you have any further questions please email us at
webshop@lewisleathers.com.
Step 2 - Colour
Please click each jacket to see more details
COW LEATHER:
Available in 3 colours
SHEEP LEATHER:
Available in 5 colours
HORSE LEATHER:
Available in 11 colours
D LEWIS Range - WE ONLY ACCEPT BLACK AND BROWN COLOUR
Step 3 - Bespoke Sizing Guide
For customer unable to visit our showroom we can still make a jacket to your exact size with the help of some measurements. Kindly note: The following measurements should be taken while wearing a t-shirt only: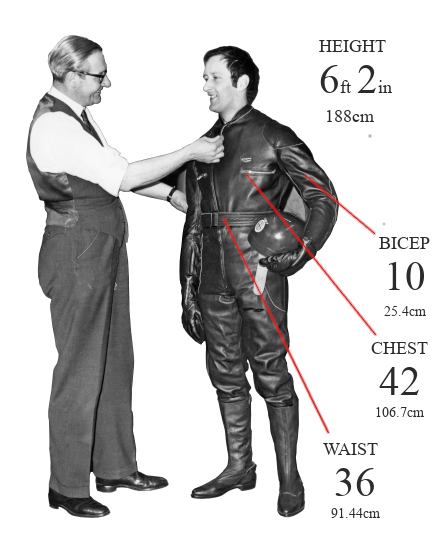 Height
Your height is useful and helps us determine your correct body and sleeve lengths.
Bicep
Bicep: With your arm completely bent (your hand touching your ear), take a measurement around the bicep.
Chest
Chest: Wearing a T-shirt or similar, at a distance of 1 inch (2.5cm) below the armpit, take a measurement of the chest, making sure not to hold the tape measure too tight or too loose. Your lungs should be inflated when measuring. Ladies, please measure at the fullest point of your bust.
Waist
Waist: Wearing a T-shirt as mentioned above, measure the waist across the navel while standing in a relaxed manner.
Hem
Tuck in your T-Shirt and with jeans pulled up, wear your belt on a comfortable notch. Place the tape measure on the outside of your belt and record the measurement in the centre of belt buckle.
Body Length
Place the tape measure at the collar seam of a jean jacket or similar type of jacket and run it down your back to the lowest edge of your belt. We will then advise a body length for your jacket taking into account your height and the jacket style.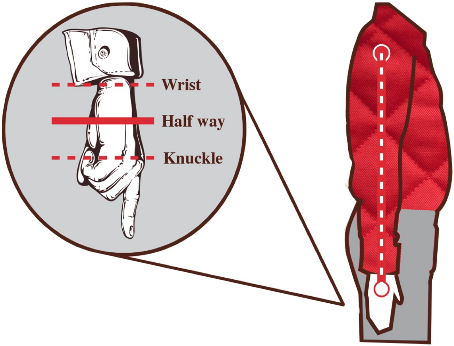 Sleeve length
You will need someone else to take this measurement for you. Standing straight and with your arms completely relaxed by your side; measure from the top of your arm (edge of shoulder) down to the middle of the outside of your hand (in between your wrist bone and first knuckle). The tape measure should be straight and taut; it should not follow the curve of your arm. If your arms are different lengths please provide us with a single measurement that will fit both arms comfortably as unfortunately we are unable to tailor sleeves individually. You may need to take this measurement a few times in order to get an accurate reading.
Hips
Ladies only: Please measure around your hips.
Attention
If you prefer to wear the jacket with a thick jumper/sweatshirt underneath rather than just a shirt or t-shirt, we recommend that you go one size larger and we can adjust the dimensions according to the measurements you provide. Please also consider your riding position as you may need longer sleeves, we will be happy to discuss this with you.
Tolerance
All of our jackets are hand cut and sewn in the UK. Due to the differing properties of the leathers we use and the hand made nature of our items, please understand there is an unavoidable possibility of a plus or minus 1cm difference on all measurements.
Inside Pocket
Please select below whether you would like an extra inside pocket on the left or the right side of your jacket or alternatively select 'no pocket'.
Slim Fit Jackets
Our jackets are quite a tailored fit but we do also make styles in a slim cut/tight fit style, these are mainly produced for wearers in the Far East, please indicate below if you are interested in this cut but bear in mind, it is only suitable for very slim people. Styles available in slim/tight fit: 384, 391, 402, 441, 445, 551, and 60. Generally in-store purchase only.
Stripe Colour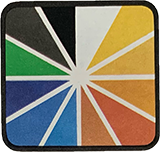 Some of our jackets are available with stripes, these can be from your choice of our existing stock colours and can match your club, motorcycle brand, or team colours, please discuss this with our staff by email at the time of ordering.
Accuracy...
If you are not a stock size we can use your measurements to make a jacket just for you, therefore, if the measurements are incorrect, the jacket will not fit as well as it could. We cannot offer refunds for made-to-measure jackets, however, we are very experienced in this field so do not hesitate to contact us by email with any questions you have and we will be able to make you a correctly fitting jacket.
Step 4 - Jacket Linings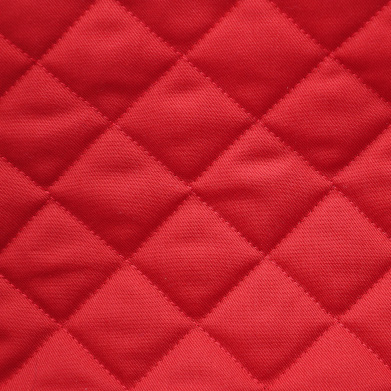 Red Quilting
Our classic warm and hard wearing poly cotton sailcloth lining as used in our jackets from the late 50's onwards, ideal for the cooler weather.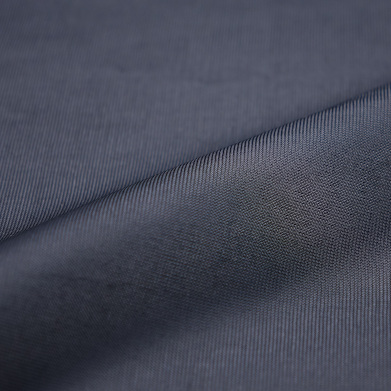 Black Nylon
Used in many Lewis Leathers Racing suits and Jackets during the mid to late 70's, this knitted nylon is now made exclusively for us. A very hard wearing fabric, the holes allow air to pass through and keep the wearer cool, less bulky than quilting so a jumper can be worn in winter for warmth.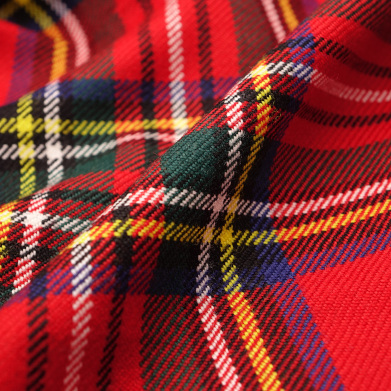 Red Tartan
A heavyweight, all-wool Royal Stewart tartan* from one of Scotland's finest weavers, warm, hard wearing and luxurious.
* Please note the Royal Stewart tartan carries a £80.00 surcharge.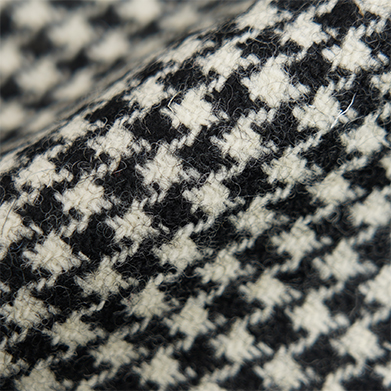 Dogstooth Wool
Heavy 17oz 100% wool*. An exact replica from a vintage 1950's D Lewis Countryman jacket, made exclusively for us by Harris Tweed.
* Please note the Dogstooth Wool carries a £105.00 surcharge.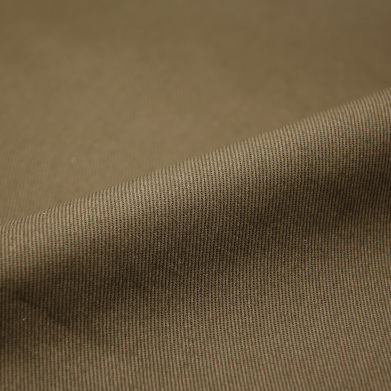 Khaki Cotton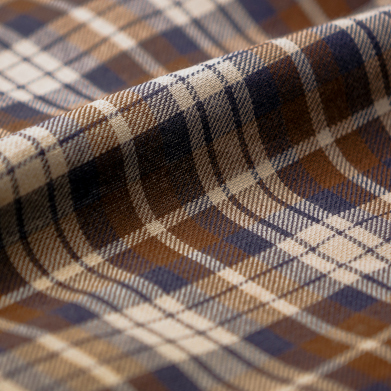 Brown Tartan
Red Wool
Step 5 - Jacket Sleeve Linings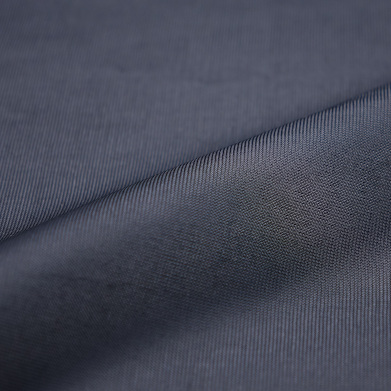 Black Nylon
Often found in our mid to late 1970's jackets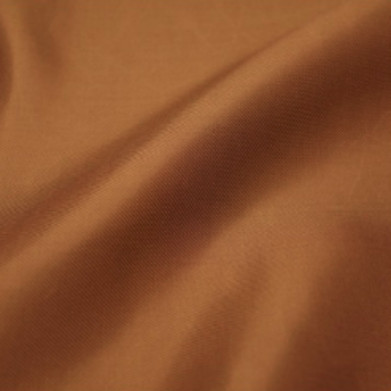 Gold satin
Highest quality Rayon Satin twill fabric, usually found in Lewis Leathers jackets in the 1960's and 1970's.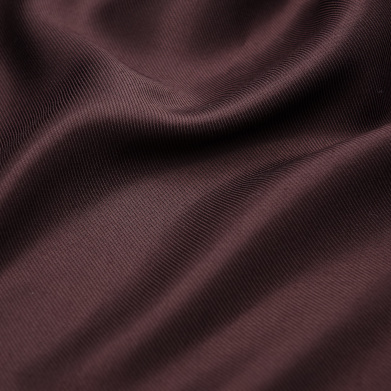 Dark Brown Satin
Highest quality Rayon Satin twill fabric as used in our D Lewis range of jackets.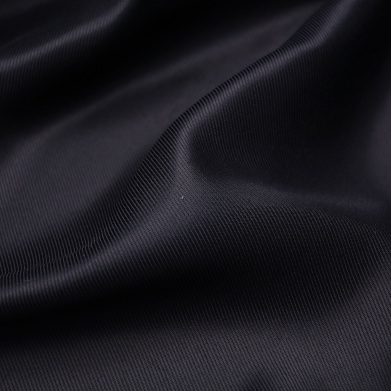 Black satin
Highest quality Rayon Satin twill fabric offered as a softer alternative to the Black nylon fabric.
SATIN LININGS
The sleeve lining used in the majority of our jackets is the only lining fabric approved by the UK Ministry of Defence (MOD) to be utilised by approved military tailors in the production of uniforms, mess kits and ceremonial wear for the Defence Forces. HM The Queens' household cavalry also use this lining in their jackets. The British Army, Navy and RAF (Royal Air Force) use all five approved military colours, Cream, Red, Khaki, Black and RAF Navy. Meanwhile, Brown and Gold, were specially developed several years ago for a leading gun and rifle maker for their hunting and shooting wear.
Lewis Leathers, by using this 100% Viscose rayon fabric for their high-quality jackets continue to use a strong and durable lining that is highly regarded by the traditional tailors in Savile Row, London.
These linings are only available as sleeve linings for our leather jackets with the exception of the
Edgbaston Jacket
and
Western jacket when
selected in light weight suede, in this case, both body and sleeves can be lined in this fabric. It is not suitable for heavier leathers.
There is no surcharge for the satin sleeve lining option.
Step 6 - Zips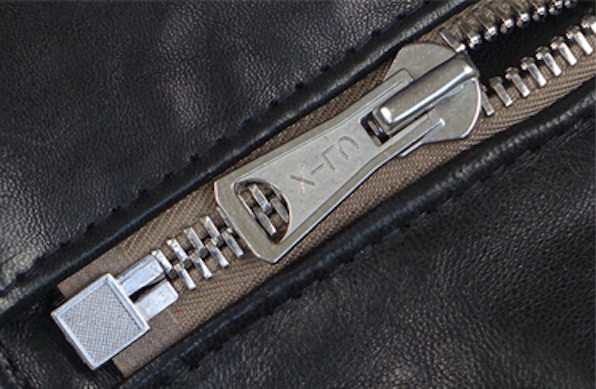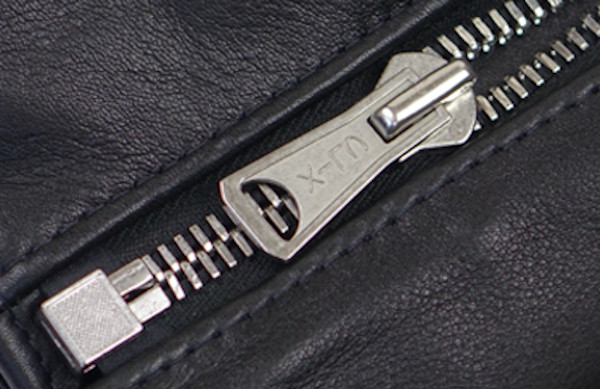 ZIP FASTENERS
Over the past 100 years Lewis Leathers has used a variety of zip fasteners but the ones that truly became an iconic component in our garments were produced by the Lightning and Clix companies.
The zips we use today are made exclusively for Lewis Leathers and are identical in every detail to their predecessors, each zip component has been fully researched from vintage items and recreated to the highest standard in order to fully compliment our products.
Sliders, pullers, teeth and retainer boxes are tooled from the same materials as the originals, (Copper teeth and slider cover, puller, slider and retainer box from zinc alloy). Our zip tape is a cotton-feel polyester which has an advantage over the cotton tape of vintage zips which tended to rot and tear with time and thus compromised the life of the zip. Although vintage in appearance our zippers are made to the highest modern standard.
TAPE COLOURS:
Traditionally our zipper tapes were black, however, the cotton zipper tape on the main zips and cuffs tended to fade to a shade of beige when repeatedly exposed to sun and rain while motorcycling, producing a rather nice effect. Today we offer a choice of traditional Black or Beige for main and cuff zippers, enabling you to customise your jacket.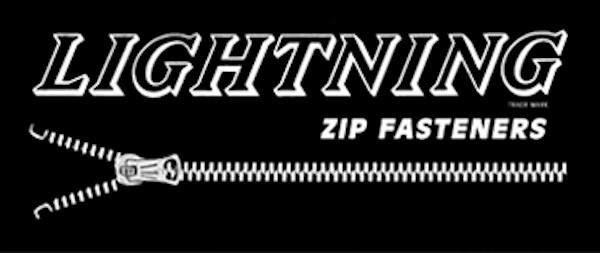 LIGHTNING FASTENERS
Britain's first zipper was initially known as the Ready Fastener when first introduced in 1918 by Kynoch Works of Birmingham. The Lightning name was first used for the fastener in March 1920 and became the mark of quality for Britain's premier zipper brand until the company's demise in December of 1980.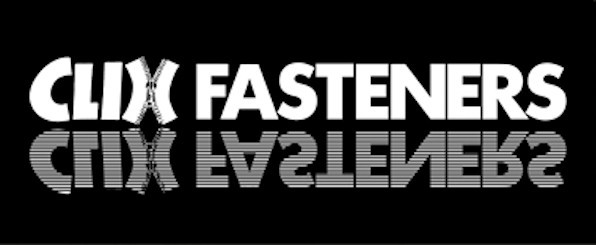 CLIX FASTENERS
Clix Fasteners were established in the UK in 1963 with just seven staff members. Almost immediately, Lewis Leathers used the brands heavier zippers for the main front zip of their jackets. In 1970, Lightning Fasteners acquired the Clix brand name and Lewis continued using the zips throughout the 1970's as their main puller whilst pockets and cuffs bore Lightning zips.
Step 7 - Patches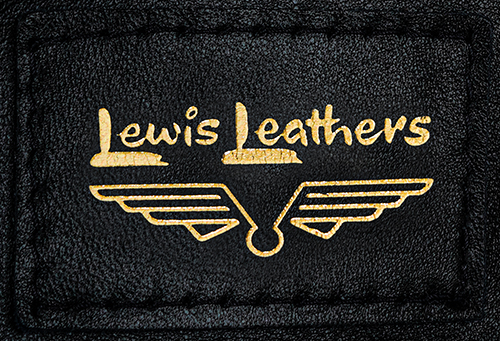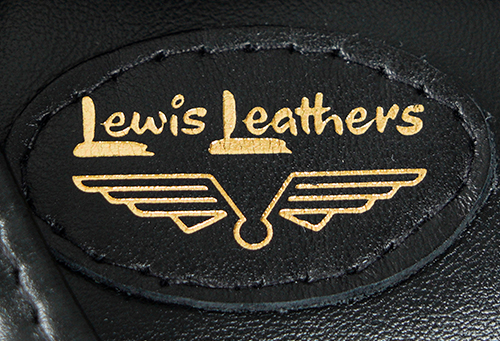 LEWIS LEATHERS LOGO PATCHES
Lewis Leathers first began adding our iconic chest logo patch to jackets in 1966. The first type was a rectangular shaped patch which was used until 1972/3 after which it was superceded by the oval shaped patch which continued through to the early 2000's. Since then we have re-introduced the rectangular patch as an option, you can select your preferred type.