Sideburn Magazine Issue 51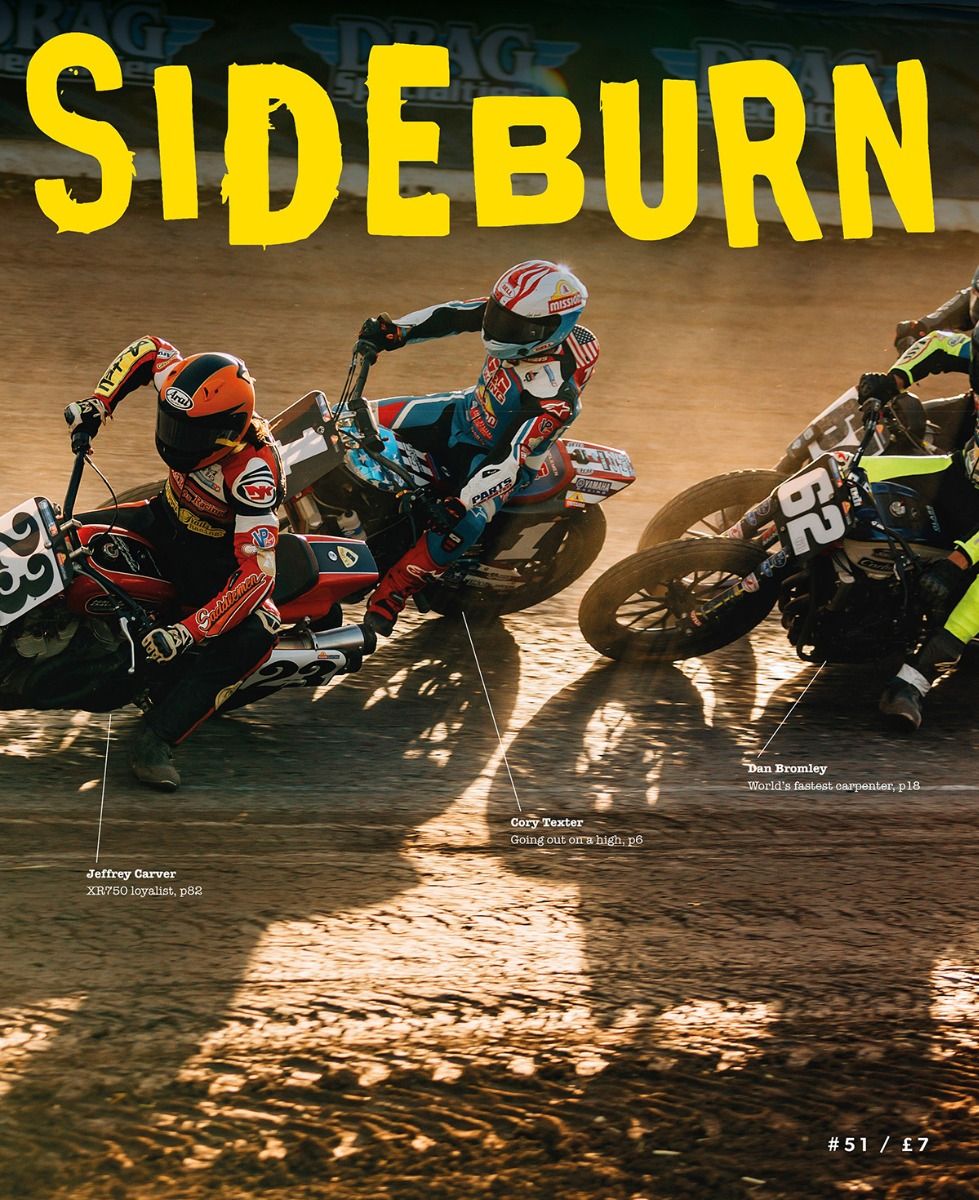 Sideburn is full of bikes built, ridden and raced by people swimming against the tide, doing things differently. The racer who built a chassis with his own hands, and won an AFT race with it. Jeffrey Carver returning to racing on an XR750. The Canadian making modern 450s feel like framers. The Brit who made a street tracker from a KTM 950, and the street tracker that has got us in a froth. Titanium frame; torsion bar suspension; monocoque alloy body, and a 1960 Ironhead Sportster at the centre of things.
- Dirt don't hurt! Tell that to the Biltwell adventurers who pointed a fleet of new and old Harleys at Alaska and got more than they bargained for.
- Japan race scene
- Travis Newbold off-kilter workshop tips
- Interviews, art, history, trophy queen...
COVER: Jeffrey Carver, Cory Texter, Dan Bromley
BIKES: Titanium frame Harley Ironhead street tracker; Competition Racing Frames Yamaha MT-07 Production Twin; KTM 990 Super Duke street tracker; Goldammer NAF 450s; Buddy Custom Cycles Harley WL45 racer; Staracer Yamaha XS650; Harley XR750; Suzuki Van Van 125 'Sand Flea'; Vintage Triumph 750 twin framer; BSA B60 dirt tracker
PEOPLE: Dan Bromley; Nick Armstrong; Jeffrey Carver; Odgie; Sam Villanueva; Alex Jorgensen
PORTFOLIO: The artwork of Lydia 'Robotica' Roberts
ADVENTURE: Biltwell Operation Numbnuts; Malle Alpine Rally
EVENT: Have Fun!! Babbitt Bank Trophy, Japan
- Text and photos by Sideburn.
Sideburn Magazine Issue 51
SKU
Sideburn Magazine Issue 51