Wings, Wheels and Rock 'n' Roll Book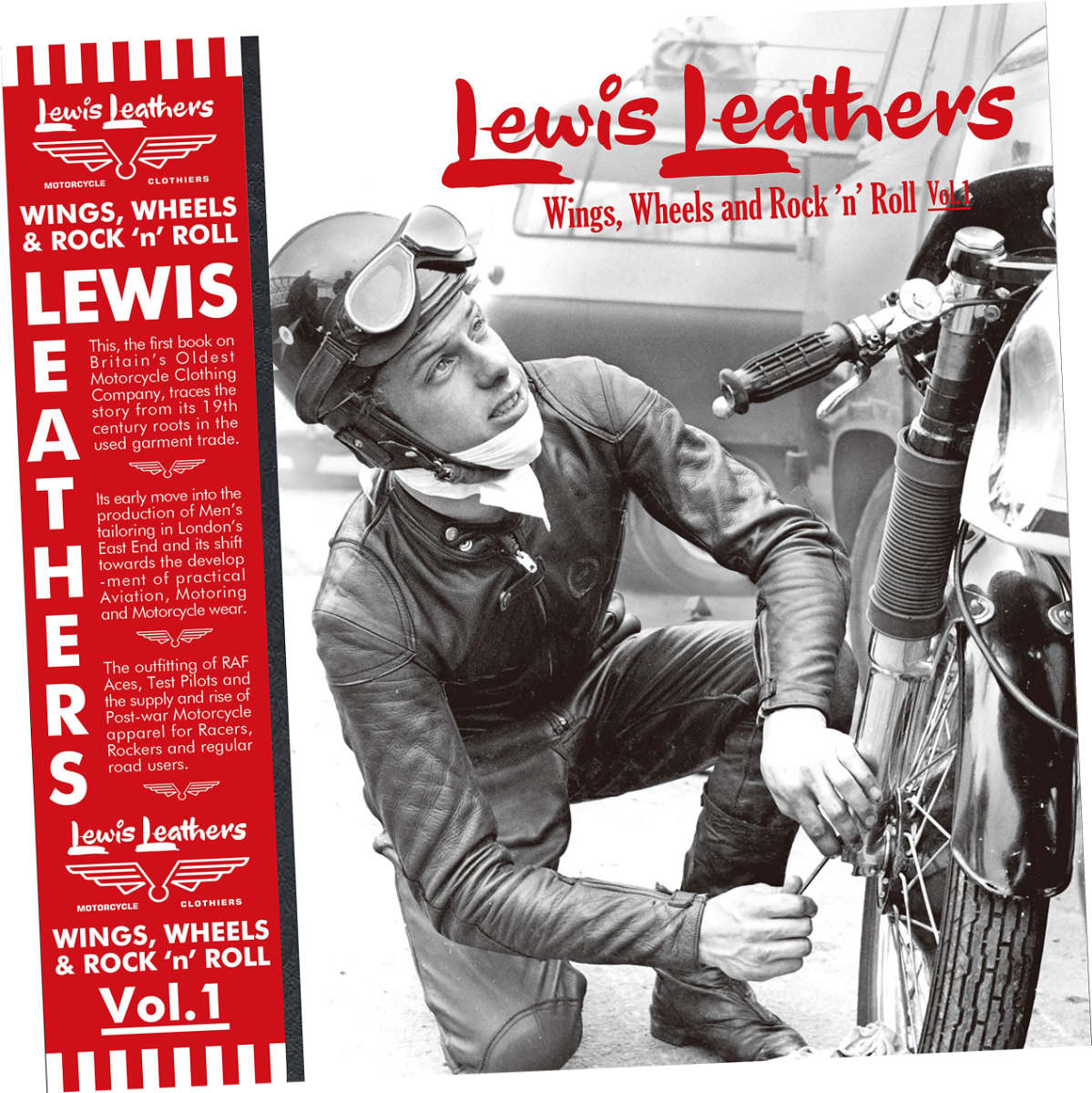 This, the first book on Britain's Oldest Motorcycle Clothing Company, traces the story from its 19th century roots in the used garment trade.

Its early move into the production of Men's tailoring in London's East End and its shift towards the development of practical Aviation, Motoring and Motorcycle wear.

The outfitting of RAF Aces, Test Pilots and the supply and rise of Post-War Motorcycle apparel for Racers, Rockers and regular road users.

Profusely illustrated with over 1,600 exclusive photographs along with English and Japanese text by Rintaro Tanaka Derek Harris, this book is sure to be of interest to enthusiasts.
| | |
| --- | --- |
| Lewis Leathers was founded in 1892 making this its 125 year, the company began its journey in London's Great Portland Street, selling ready-to-wear men's clothing. Post WW1 it gravitated towards warm clothing for the Aviators and Motorists who frequented the street in its burgeoning new role as centre of the London motor car trade. WW2 saw the company supplying the RAF and, in the absence of civilian pilots, concentrated on clothing for motorcyclists. Post WW2 the company increasingly catered to their two-wheeled clients and became known as the most famous motorcycle clothing brand in the UK, if not the world. | |
The mid-50's saw the company change tack and target the younger set of Ton Up Boys - who went on to become the Rockers, renowned for their battles with the Mods on the beach fronts of Brighton, Margate and Southend in 1964.

During this period adverts were run in the music press such as 'Jazz News', 'NME' and 'Melody Maker' which prompted music fans and makers to visit the central London store. The connection with music and fashion has continued to date and the brand name has subsequently been seen on road, racetrack, street and stage ever since.
Derek Harris became the 6th owner in 2003 and has spent the past 25 years researching the brands history and building an archive of vintage products, many of which are featured in this book. Rintaro Tanaka approached Harris about a book five years ago, Tanaka photographed, compiled and edited the book with Harris' research and English text.

The book covers Lewis Leathers' first 60 years and the result is this stunning 240 page, hardback volume, printed in Japan on the latest equipment at 283 lines per inch, making it one of the highest resolution books in the world.
About author

- Rintaro Tanaka lives in Los Angeles where he is famous for his books on the vintage clothing scene My Freedamn along with his yearly vintage clothing convention InspirationLA.

- Derek Harris was born in Sussex, England in 1958. He moved to London in 1981 where he worked at Better Badges before designing and Printing his own t-shirts which were sold at his shop on Portobello Road until 1989. After a 2-year hiatus, he spent 3 months in Japan, returning in August 1991 sourcing clothing brands for a Japanese retailer. One brand was Lewis Leathers which, after 12 years of researching and developing the range he then bought. He continues to run the company in London.

 

Available in two types, Derek Harris signed copy or UNsigned copy.
Lewis Leathers: Wings, Wheels and Rock 'n' Roll
SKU
Wings, Wheels and Rock 'n' Roll