Washed Denim Jeans - Slim Fit LLJ002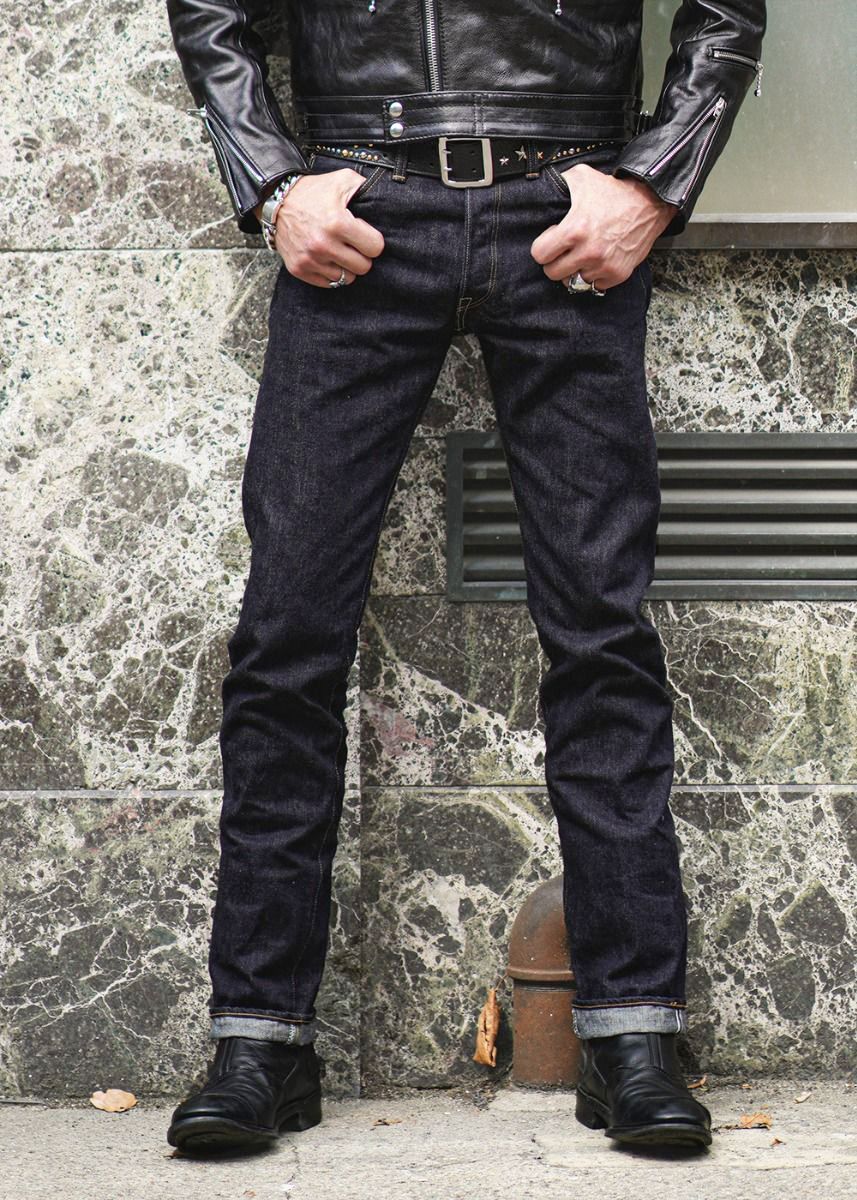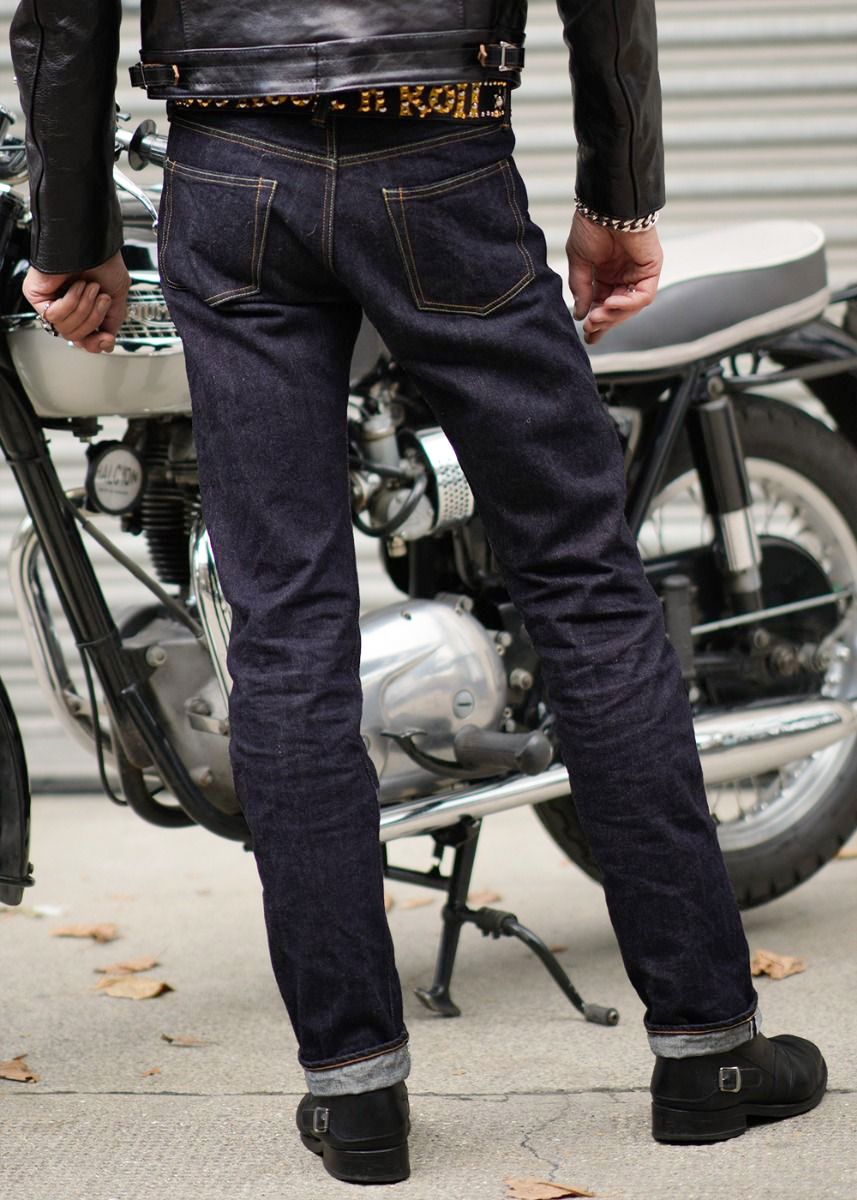 Leather jackets and denim jeans have long been worn together and jeans first featured in our catalogues as long ago as 1958.

Just as with our jackets, we like to do something a bit special and these days our jeans are crafted in Japan by Mr Kuniyoshi.

Mr Kuniyoshi spent ten years making jeans at Kapital denim on the mainland before returning to his homeland of Okinawa eleven years ago, where he set up his company Double Volante.

These denim jeans are made to our own specifications, the fabric we have chosen is very special, the finest 15oz, right hand twill, rope weave indigo denim, produced on 70-year-old machines in Okayama, Japan. This 15oz denim fabric is heavier than most jeans you will find and a maximum of only 50 metres a day is produced.

The fabric is then cut to our patterns and sent to Mr Kuniyoshi in Okinawa for assembling at his workshop, where he sews each pair himself, in the same manner that each of our leather jackets is made, by a single machinist.
The logo's are applied at a small Okinawa embroidery shop which began decorating souvenir jackets for servicemen at the nearby US base during the Vietnam war. It was here, in 2013, that LL's Derek met Mr Kuniyoshi, the Jeans maker by chance. Mr Kuniyoshi recognised the jeans Derek was wearing and they got chatting, after, they visited Mr Kuniyoshi's nearby workshop where Derek was so impressed by the quality of his sewing and quality that we asked decided to make jeans together.

- Washing: These jeans have been washed, so are ready to wear.

- Subsequent washing: Fans of this rope-weave style of denim will know that wearing it for three to six months before the first wash will encourage unique and desirable fade characteristics. The dark indigo denim will then develop distinctive subtle shades of blue at points of stress and wear -a snapshot of the way you live your life, however, they can, of course, be washed before that.

- Prior to washing: we recommend closing the fly buttons and turning the jeans inside out and washing at a low temperature, never over 30c. This will help the fabric retain the dye for the longest period and produce the ultimate natural fade as your jeans age. Not only will they wear for a long time but they will look amazing too.
LLJ002 Jeans after three years wear
DETAILS
All of our jeans are hand-cut and sewn in Japan. There is an unavoidable possibility of a plus or minus difference in measurements.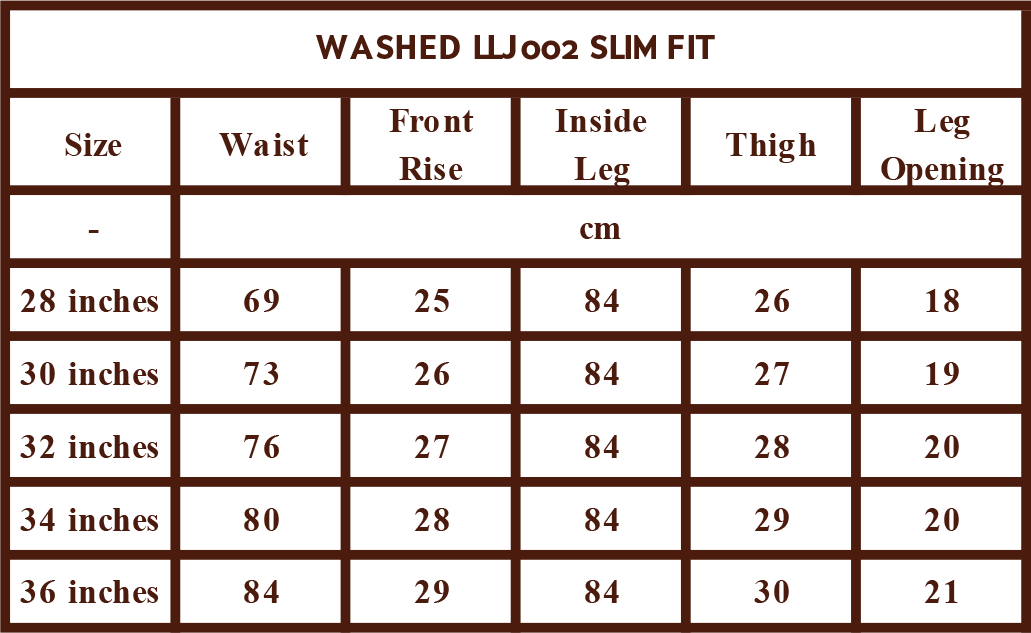 Washed Denim Jeans - Slim Fit LLJ002
Only %1 left
SKU
Washed Denim Jeans - Slim Fit LLJ002
£305.00