Leather Basket Weave Derby's by Original Playboy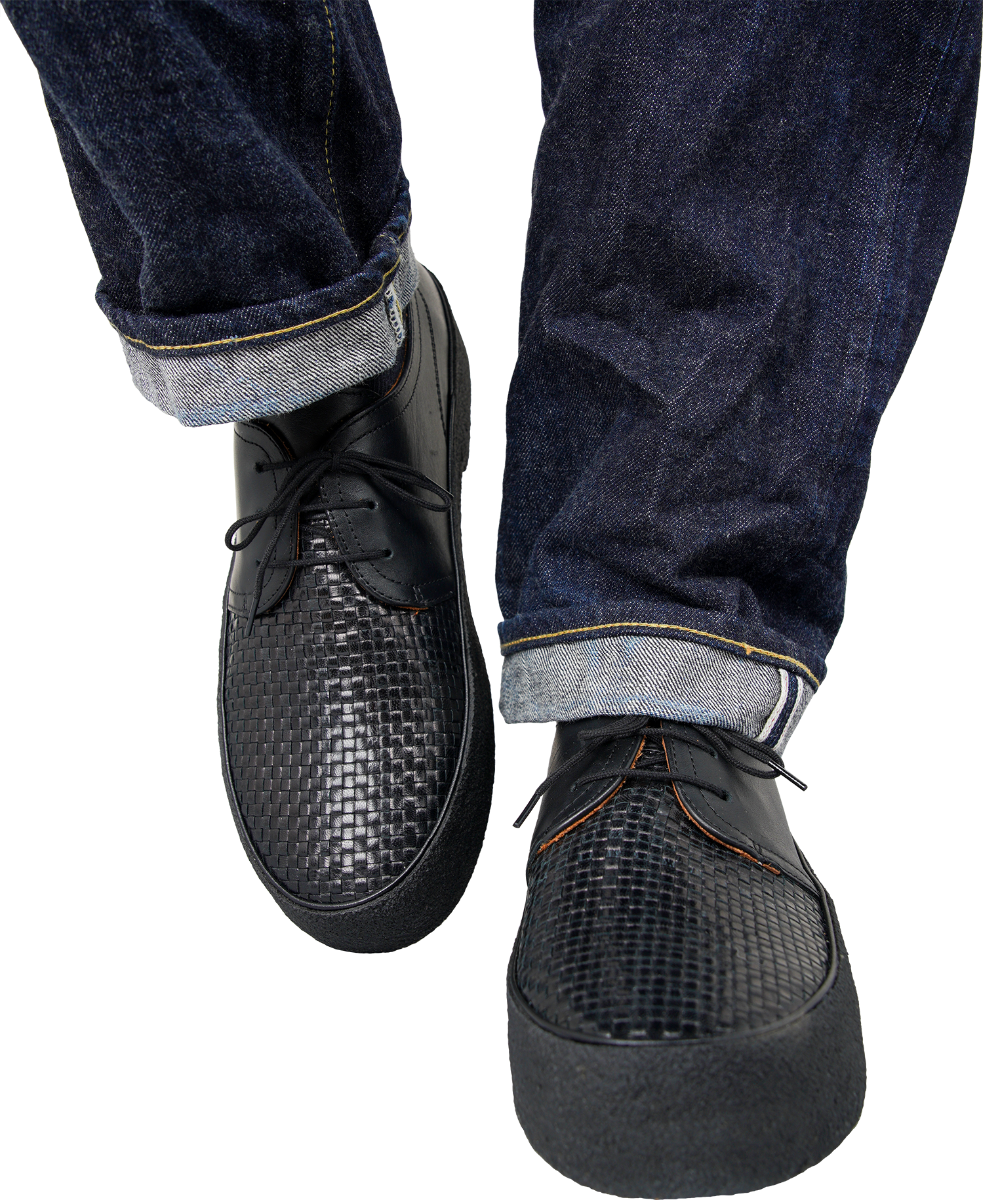 | | |
| --- | --- |
| A true classic of British design, the Playboy shoe was first marketed by Hutton of Northampton in 1936 as a shoe for sports and casual wear calling it, 'The Easiest Shoe On Earth'.  | Its use of a leather or suede upper with a crepe sole made it one of the first shoes to use this innovative combination and pre-dated the Creeper style by thirteen years. Although initially targeted at Sportsmen and women, the shoe quickly crossed over into the general fashion market due to its supreme style and comfort. |
During the early 1940's, Playboy shoes were successfully exported to Australia, Canada, and the United States where they became synonymous with the Ivy League look which was soon to sweep the world, Steve McQueen, a long-time champion of the brand, can be seen wearing Playboy Chukka boots in his 1958 debut movie, The Blob.

Back in the UK, Playboy shoes proved popular with the Teddy Boys from the early 1950's through to the 1960's, meanwhile, in the United States Miles Davis wore a pair of Chukka boots during the recording of his 1958 album 'Milestones,' as Steve McQueen continued to give the brand his support, wearing Playboy Chukkas in a 1963 photo spread for LIFE magazine and later in his 1968 movies Bullitt and The Thomas Crown Affair.

During the 70's Ebony magazine carried adverts for Playboy shoes in the US and later in the decade, Playboy's were later adopted by New York's early Hip-Hop movement of the 70's and early 80's as documented in the exhibition 'Urban Armor: Hip Hop's Fashionable Flavor,' curated by Rock Steady Crew member, choreographer and film director, George 'Popmaster' Pabon. At the same time, the emerging British Rockabilly's wore Playboy Chukka boots and shoes as part of their 'back to basics' style.
| | |
| --- | --- |
| The original tooling for Playboy shoes was sold to a Scandinavian company in the early 80's and the iconic shoes are still produced in the authentic method today. This year Original Playboy have teamed with Lewis Leathers for a mini colaboration, we feel this is a marriage of two classic brands and are excited to be able to present our special versions of these timeless shoes. | DETAILS |
NOTE: Shoe tree not included

Lewis Leathers x Original Playboy Collaboration - Leather Basket Weave Derby's
Only %1 left
SKU
Leather Basket Weave Derby's
£236.00